How a Sanyo Gas Engine VRF Air Conditioner Works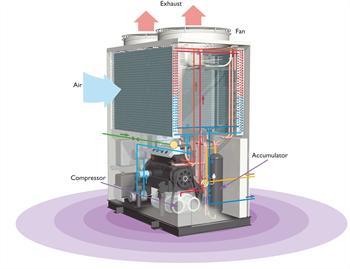 The only difference between a conventional Sanyo Electric VRF and a Sanyo Gas Engine GHP air is the outdoor unit. The compressors are belt driven by a Nissan car engine running on main gas or LPG. Everything else is the same – indoor units, pipework and controllers. Instead of arranging a mains electrical supply to the outdoor unit, the installer needs to arrange a mains or bottled gas supply at standard mains pressure for each outdoor unit – about 21mBar. A 20HP/56kW Gas engine consumes mains gas at approximately 4cubic Metres per hour.
Commissioning
All quotations from ESS for GHP product include on-site commissioning assistance. The engines themselves will be commissioned by Sanyo & ESS. You engineers will need to be in attendance.
Service and Maintenance
All Sanyo Gas Engine air conditioners require a service every 10,000 hours, or every 3 years, whichever comes first. The running hours of each system are displayed on a panel within the gas engine. A warning "oil lamp" will appear on the room controllers to indicate that a service is required within the next 500 hours of running. If the service is not carried out, then the system will close down after 1000 hours i.e. at 10,500 hours.
As part of the service, each system needs a full oil change and a change of serviceable parts such as air filter, spark plugs and fan belts. These consumables must be supplied by a Sanyo distributor and the service must be carried out by a qualified engineer. ESS is pleased to
Attend and carry out servicing on behalf of maintenance companies.
Supply service kits and oil to qualified engineers/maintenance companies.
Recommend service companies to end users to carry out work.
Please note that ESS will only supply to and work through a suitably competent mechanical/maintenance company. We will not undertake to work directly for the client.
For more information, contact the Sutton office on 0845 880 5863
Features & Benefits
These are well documented in the product literature, but the 3 main advantages of Gas VRF over Electric VRF can be summarised as the following
1) Most buildings have a ready supply of Gas but for many the availability of Electricity is restricted and upgrades can be costly and time consuming.
2) The direct burning of Gas provides surplus heat which is utilised in the system so that heating 
performance is constant and reliable.
3) The ability to re-use this heat for hot water supply and/or for electricity generation makes the machine highly efficient.